Football great Pele and Maradona have etched their names in gold in World football after impressing at the International level for their respective sides.
With Pele leading Brazil and Diego Maradona at it for Argentina everything seems rosy for both South American giants as the case may be.
While both stars featured during different dispensation, the likes of CR7 now at Manchester United and "little Pea" Lionel Messi at PSG are players of the same generation.
Though the former started before the latter in terms of the playing career, it's the latter that has claimed more individual honour on the world Podium.
The Messi and Ronaldo corundum can't be viewed from the same stance as that of Pele and Maradona as the two legendary ex-footballers worked much more to get the level they attained in football history.
Ronaldo and Messi may have dominated World Football during their era but they needed the help of the media system also in order to boost their profile as a player.
Messi and Cristiano Ronaldo have had that advantage to their credit while such marketing wasn't in vogue during Pele and Maradona playing days.
It's was crystal clear especially during Pele playing days as most of his documentaries were done with the aid of Black and white Television.
But his talent still stood out while his maturity to lead Brazil to World Cup glory was exceptional to note.
Maradona's swag and height was a major way of recognizing him on the pitch while his left-footed trickery and ability, combined with his confidence was the trait that drew respect to the legendary Maradona.
Though he's late at the moment,t it was an honour for Cristiano Ronaldo to take a snapshot with him during an event scenario.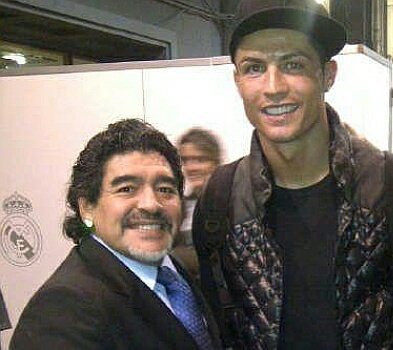 His death came as a shock to the world just as everything is put in place to see that Pele stay alive as well as his legacy.
Their encomiums would always live for real while it's worthy to note that Pele didn't play in Europe as well.
So how come did he generate such repute and massive individual accolades? His performance in the Brazilian set-up was an awesome experience as he won the trophy on two occasions.
But Maradona though managing to win one World Cup with himself as the major catalyst was a constant feat for Serie A side SSC Napoli.
He's won the heart of many fans (people) in Italy thus making it a fertile ground for Argentine players to pitch their tenth in the Serie A Tim.
While Messi and Ronaldo come close at least in terms of personnel achievement rather than football artistry on the pitch.
These legendary players were the men who defined football and made it a voice in global sports.
But Messi and Cristiano became public figures with quality performance also thanks to economic reasons that had much connection with hype and territorial advantage.
It comes into play as Europe endorse Ronaldo for the possible accolades on the world level.
While Pele and Maradona did not have much to do in terms of media attraction and in social media, they were able to make their mark in world football with such class and pedigree.
The Pele and Maradona exquisite performance are better much than the Leo Messi and Cristiano Ronaldo modern display especially as the current players are yet to win the World Cup for their respective country like the aforementioned two (Pele and Diego) have done during their time as professional football players.
This article was most recently revised and updated 12 months ago